History of Rugby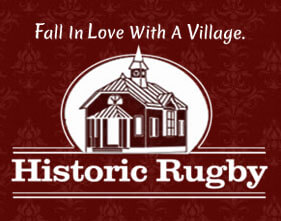 Only twenty minutes to the east of US-127 at Jamestown, along scenic state highway 52, you will find the tranquil and special village of Rugby high up on the Cumberland Plateau. Rugby is a place of unrivaled fusion between the cultures and people of Victorian England and rural Appalachia. Founded in 1880 by writer and social reformer Thomas Hughes, an Englishman who wrote Tom Brown's School Days and other books, Rugby was envisioned as a wilderness Utopia. The goal was to have a classless agrarian society with all creature comforts and cultural offerings for its initial three-hundred residents.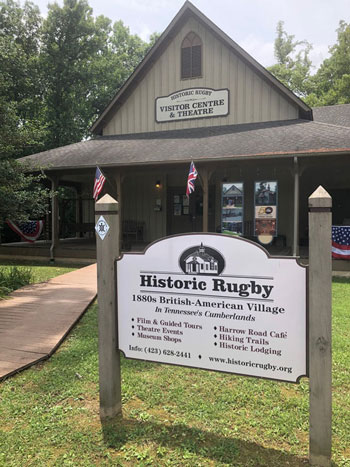 Within a few years, the villagers built a church, schoolhouse, library (one of the oldest in the South and preserved with its antiquarian collection, no longer circulated), a popular inn with visitors by train, and many dwellings and businesses—most in the rural style of "Craftsman Gothic". In 1966, Historic Rugby, Inc. was established as a non-profit organization to ensure Rugby's architectural preservation and modern interpretive and outreach efforts. Many members, donors, and visitors help support their mission.
Offerings for the 127 Yardsaler: Lodging, Dining & Tours
Today Rugby is a town of about 80 residents, many of whom live in restored nineteenth-century houses or modern facsimiles. 127 Yard Sale visitors may take a paid guided tour of five original buildings (and view a free award-winning film on Rugby's compelling history in our Visitor Centre), shop at the Rugby Commissary, dine at the Harrow Café, and even stay in one of several historic buildings that can be rented by the room, or house. There is also a working print shop with antique letterpress equipment.
The unique and comfortable lodging is authentically furnished with Victorian antiques and free WiFi (advance reservations highly recommended for the 127 Yard Sale weekend). Continental breakfast is provided, or you may self-cater in the kitchens, and The Canteen restaurant offers specialty & build-your-own sandwiches, three unique entrees, sides and drinks. It's all to-go, whether you enjoy a meal at the nearby outdoor picnic tables, in local lodgings or at home. Stop in for a pleasant meal and a bit of good cheer during the 127 Yard Sale weekend. If you're lucky, local Rugbeians will be partaking in a round of Irish road bowling which happens every few Saturdays in season. You are welcome to join in the fun.
Local Hiking & Events in Historic Rugby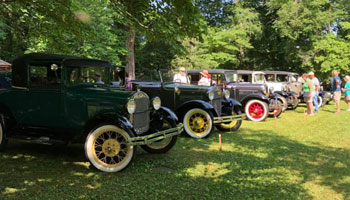 Rugby's proximity to Big South Fork National River & Recreation Area also allows for many hiking options in and around the village in the Rugby State Natural Area. The National Park Service has recently established a ranger's station in the Historic Rugby Visitor Centre with trail information and guided hike offerings on weekends. Rugby is also now a "trail town" on the Sheltowee Trace, a 319-mile National Recreation Trail that begins in Kentucky. See a map of local trail options in and around Rugby.
Throughout the year Historic Rugby hosts numerous festivals, antique car shows, seasonal events ("Christmas at Rugby" is a perennial favorite), and informative workshops while offering a unique and welcoming experience for all ages. If you can't stop off the 127 Yard Sale, there are many opportunities and reasons for another time.
You are always welcome in Rugby, Tennessee—come fall in love with a village!
Before You Go
Rugby is located about 20 miles east of Hwy US-127 at Jamestown, off State Scenic Hwy 52 [NOTE: Eastern Time]. The village and Harrow Café are generally open from mid-March to mid-December, Thursdays-Sundays from 10am-5pm. Lodging is available most of the year as well as some local businesses.
For more information and specifics please visit www.HistoricRugby.org where you may also book lodging, become a member, enroll in a workshop or tea, or make a welcome donation. All proceeds assist with the operation and mission of Historic Rugby, Inc., 1331 Rugby Parkway, PO Box 8, Rugby, TN 37733.
Historic Rugby's lodging and buildings are available for your next family reunion, corporate meeting or retreat, or a getaway with friends. We can also host weddings. For your private event planning needs, please contact Catherine Pond at This email address is being protected from spambots. You need JavaScript enabled to view it.
Reservations for lodging can be made online, seven days a week, or by calling 423-628-2441.