The World's
Longest Yard Sale
August 3-6, 2023
What is the 127 Yard Sale?
It's an annual 4-day event that takes place every August and draws hundreds of thousands of shoppers and vendors. The 690-mile route passes through 6 states including Michigan, Ohio, Kentucky, Tennessee, Georgia, and Alabama. More info...
Plan Your Trip

Get the 101 on the 127 Yard Sale! View the route map, talk to other yardsalers, find lodging, and more!

Become a Vendor

Do you want to setup and sell your stuff at the 127 Yard Sale? Learn how it all works. Get the Vendor 101!

Rental Space Providers

Do you have spaces available for vendors? Get listed on the website and let vendors know what your location has to offer.
Welcome to 127YardSale.com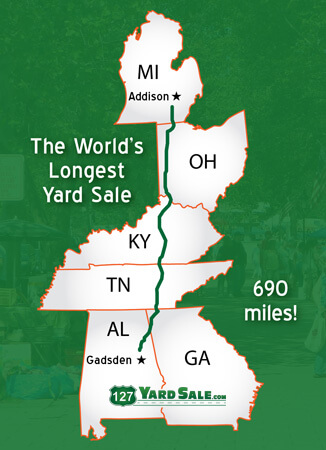 This is your one-stop-shop for everything 127 Yard Sale related. Whether it's your first time participating or you're a seasoned veteran, we can help! We have everything you'll need to be successful at the 127 Yard Sale as a Yardsaler, Vendor, or Rental Space Provider. We are always adding new features to the website and working to make the 127 Yard Sale the best it can be.
The World's Longest Yard Sale
The 127 Yard Sale is commonly referred to as "The World's Longest Yard Sale". That's because it really is the longest yard sale in the world. To be exact, it's 690 miles long and the route travels through 6 states; Michigan, Ohio, Kentucky, Tennessee, Georgia, and Alabama. The majority of the route follows Highway 127 from Addison, MI in the north to Chattanooga, TN in the south. From Lookout Mountain, GA to Gadsden, AL the route switches to Lookout Mountain Parkway. Both are scenic drives allowing you to appreciate the beautiful countryside of these states all while enjoying the fun and excitement of The World's Longest Yard Sale.
The 127 Yard Sale Community
Join in and become a part of the 127 Yard Sale community. To get started you should sign up first. It's completely free. This will give you full access to the website and we will add you to our mailing list so you'll receive the latest news and information about the 127 Yard Sale. We also sometimes have special contests or giveaways which are only for registered users. In addition, you'll be able to create and respond to forum posts. Be sure to connect on Facebook, Pinterest, Twitter, YouTube, and Instagram too.