Yardsalers 101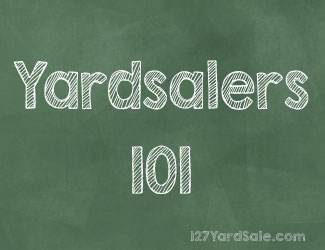 127YardSale.com has much to offer, and we're just getting started. Have a look around and get to know the 127 Yard Sale community and learn everything you need to know.
How do I participate?
If you want to participate in the 127 Yard Sale, The World's Longest Yard Sale, all you have to do is plan your trip and visit the route during this year's 127 Yard Sale dates—and be ready to shop! Be sure to check out the info below and join the community.
Sign Up First
First things first, if you haven't already, make sure you sign up. It's free and will give you full access to the website. You'll be able to post on the forums, contact vendors, and more.
Visit our search page and find anything and everything!
Advanced Search - Search state, city, category, and more.
Radius Search - Find vendors and lodging within a certain mile radius of any city/state/zip code.
See the interactive 127 Yard Sale route map which shows the entire 690 mile route through all 6 states. You can zoom in and out to see any part of the route. You can also view and print turn-by-turn directions through Georgia and Alabama where the route follows the Lookout Mountain Parkway which is a little tricky.
Head over to our forums and join a discussion or start one. Ask a question, or better yet, if you're a veteran yardsaler help out a newbie.
Get the 101 on the 127 Yard Sale, i.e., The World's Longest Yard Sale! See the FAQ page. If you don't find the answer you're looking for there visit the forums or feel free to contact us. We'd love to help.