Spread the Word
People often ask us how they can help promote the 127 Yard Sale? Well, whether you're interested in spreading the word in your local area and introducing people to the 127 Yard Sale who have never heard of it, or you just want to help grow the 127 Yard Sale and continue to make it the biggest and best yard sale in the world, we have some resources below to help you get involved.
Flyers (printable)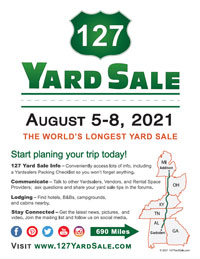 General Flyer (8.5x11, 746KB) - Our general flyer is designed to give anyone a quick intro to the 127 Yard Sale, even if they've never heard of it before.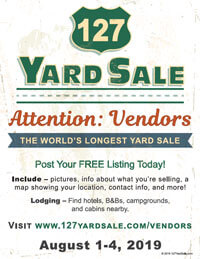 Vendor Flyer (8.5x11, 700KB) - Our vendor flyer is designed to let vendors know how they can benefit from using 127YardSale.com by posting listings and bringing more yardsalers to their location. These are great for rental space providers to hand out or email to their vendors. Note: this is a large file and may take a while to view/download.

Banners
The banners below can be used on your website or blog to help promote the 127 Yard Sale. You can right-click and save the banners or copy the code below and use it on your website.
728 x 90 (Leaderboard)

468 x 60 (Banner)

300 x 250 (Medium Rectangle)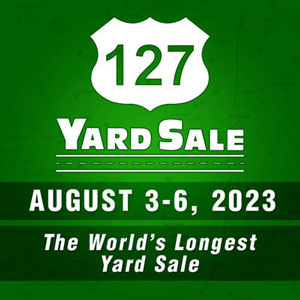 180 x 150 (Small Rectangle)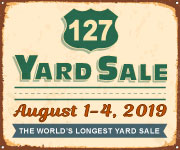 300 x 600 (Large Skyscraper)