Blog
Details

Category: 127 Yard Sale News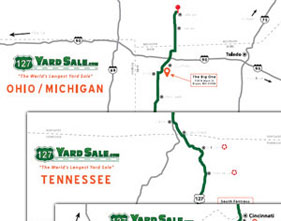 We've just released printable 127 Yard Sale maps for the entire route! Download the maps here >
Details

Category: 127 Yard Sale News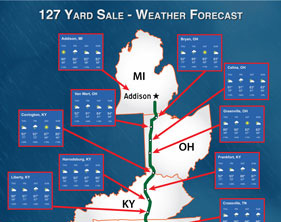 Here's your full 4-day weather forecast for this year's 127 Yard Sale.
Temperatures: Expect highs in the high 80s and low 90s most places during the day so drink plenty of water.
Rain: As of today the most likely chance for rain will be; Friday in Michigan and Ohio, Saturday in Kentucky and Tennessee, and in Alabama there's a chance for rain near the Mentone area on Friday and Sunday and in the Gadsden area on Thursday and Sunday. Don't worry though, vendors may shut down temporaily when it rains, but they reopen as soon as they can after the rain stops.
Details

Category: 127 Yard Sale News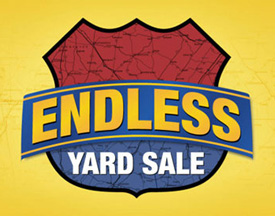 TV Show Premiere!
We've finally received the official premiere date/times and some exciting news! For this years Endless Yard Sale show there will be two episodes. One will focus on Kentucky and the other on Ohio.
The Endless Yard Sale show follows three teams competing to find the best bargains while scouring the World's Longest Yard Sale, the 127 Yard Sale.
Note: The show has moved from HGTV to it's sister network Great American Country.